Depending on your product and business, the tabs will appear as per your business requirements, but in this instance as we have worked on a jacket for the demonstrations, we'll stick with the apparel layout for bill of materials.
As mentioned before in previous tutorials, a PLM is for any physical product, it is not just for fashion. PLM actually originated from the automobile industry, and is used today for the design, development and manufacturing of many products such as furniture, food, appliances, technology, pharmaceuticals, etc.
The tabs in the bill of materials we'll be working on today for the jacket will be a common one for a piece of apparel, they will hold the components for the materials, artwork applications, trims, labels, and packaging.
Material is the largest covering area, so we're going to start there.
I'm going to tap the materials tab, and add my first component. Now, there are two ways of doing this, you can either import from the library, or create a brand new component. I'll show you both methods, but to find out more about the Bill of Materials Library, you will need to navigate to that tutorial as this one only covers the BOM components within a product.
sample number
sample name
sample supplier
linked sample
created by date/time
modified by date/time
received date/time
status
Import is the first, and the default selection. To import from the library all you have to do is to start typing the component code/description in the search bar, and Bombyx will start to filter through the components within the library for you. Once you see the component you want to import, all you have to do is tap that item.
Most items in the libraries groups and templates have not only a library, but also a group that allows users to group components that are commonly used together, so that when it gets to the product stage you can import all of those items together at once as opposed to individually.
If you select 'group' from the drop down, and start searching, Bombyx will then filter through your group names/descriptions. It's exactly the same as what you did with the library selection, but it stops you having to add them all in one after the other, and saves you a chunk of time.
Similar to groups, selecting a product from the dropdown will drop in multiple components from another product. Maybe it's a very similar product and you want to add in the same components and then edit or delete anything you don't need, and add the final pieces that the previous product maybe doesn't have. Once you've selected Product from the dropdown, another dropdown will appear in which you can then search for a product number/description, and as you type Bombyx will start to filter out the results based on your search.
Once you've found the product components you want to bring into that specific tab, tap the selection and all the items from that product will appear. Note that you can't bring in items from one BOM type to another. For example, if the product has a BOM type called 'External', and you want those items in your 'Materials' tab, this product will not come up in the search filter, because the search function will only look through the library for the tab you're wanting to bring a component into.
Tap the + icon and a popup will appear, in the popup you'll be able to enter the following information:
Type

Code

Description

Supplier

Placement

Size

Weight

Quantity

Composition

Additional Information.
These are an array of dropdowns and text boxes, if it's a dropdown these are predefined values which can be added in the system masters section, or if a plus icon is next to the field, you can add it from the popup itself, and that will automatically feed that option for reuse to the system masters section.
You'll notice a red * along the first three fields. In order to create a component card, these fields will need to be filled before you're able to tap on add/update.
In the component supplier field you'll notice all of your component suppliers are listed along with an option at the top that states 'Locally Sourced'. This is where the supplier will source the requirement instead of the company providing a source that they have nominated themselves.
The quantity field is where you add the quantity of the item. For example, if you were referring to the buttons of a jacket and there were 5 in total, you'd put the quantity as 5. The quantity is only taking into consideration one unit.
Unit of Measure (UoM) is a second field for quantity/volume and weight to identify how they will be measured. For example it could be the weight of the material which could be in GSM, or Ounces, or it could be the quantity of buttons per jacket which would be in units/pieces.
If the component has more than one composition, next to the composition fields there is a + icon as well as a trash icon. If you tap the + icon, more fields will appear for you to enter the other compositions. If you've made a mistake and added too many fields, you can tap the trash can and will remove the most recently added set of fields.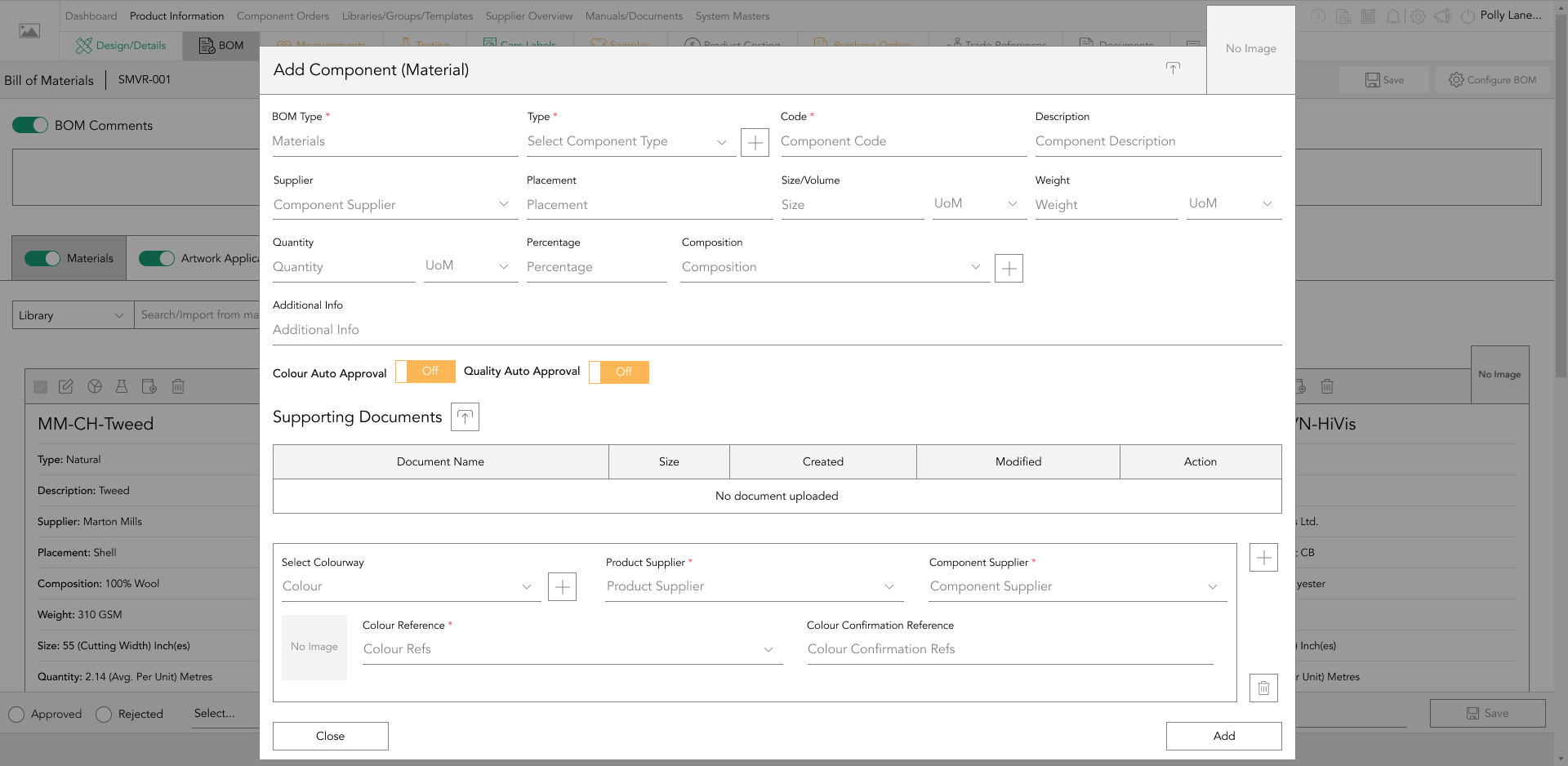 To edit information you've previously entered on a component, tap the 'Edit' icon on the bar of the component card.
what our collaborators are saying
"It's very exciting to see something that matches our expectations of how things should be, and a pleasure to deal with people who "speak our language".
This is why we ultimately felt comfortable and chose to sign on with Bombyx PLM."
Michaela Silverman
Rekucci
"Out of all the PLM systems we've seen, Bombyx PLM is by far the most attractive in aesthetic, and definitely the easiest to use and navigate."
Marie Laskowski
Missguided
"Bombyx PLM is incredibly easy to use, it gives us a clear overview of our developments and takes out a lot of the administrative work out of our workload. It is also really great value for money!"
George Kara
GEORGEBLACK 
"Bombyx have under promised and over delivered in their commitment to successfully implement their PLM into our business. They go above and beyond to support you, understand your challenges, present solutions, and work with you to overcome your bottle necks. It's been a true partnership from day one"
Neil Weaver
Cath Kidston